Hoklartherm RIGA XL Greenhouse
The RIGA XL is truly a greenhouse by the European definition of a greenhouse – designed to be used to grow fresh vegetables, herbs and flowers in the middle of winter. Other "greenhouses" using less than 8 mm twin-wall polycarbonate are considered to be Season Extenders, to be used when only a slight night frost might be expected during the spring or fall season. At best, they can only be used to house established plants during the winter season
Why Choose RIGA XL?
The RIGA XL Greenhouse is designed, engineered, and manufactured in Germany, a leading manufacturer of commercial and hobby greenhouses, sunrooms, pavilions, pool covers, home additions, and commercial building, with 28 years experience.
With a combination of strong materials and durable hardware, the RIGA XL Greenhouse is an exceptionally strong greenhouse.
The RIGA XL Greenhouse offers more window and door ventilation than other units in its class.
The 16mm triple-wall polycarbonate glazing on the RIGA XL Greenhouse is German-made and believed to be of superior quality than the much more common Polygal or GE glazing.
One major advantage of the RIGA XL's construction method is that the frame profiles are permanently attached to each other, and won't come loose over time due to wind pressures.
German engineering – guaranteed top quality!
Optional Shelving: Seedtray/Bench shelf and top shelf are available with strong diagonal support braces – can hold a 160 pound man! Twin-wall polycarbonate shelf inserts can be removed to allow for tall plants such as tomatoes or beans or to allow insertion of heavy-duty seed trays. This greenhouse can flex to your gardening needs throughout the year.
The RIGA XL Greenhouse is attractive and beautiful to look at – fits well in to an upscale garden setting.
Buying a greenhouse is like buying a car, they vary in cost from cheap to very expensive, the RIGA XL is a class similar to a Volkswagen/Volvo – stronger, more durable and better insulated, and offers many more features than the better selling brands.
The RIGA XL Greenhouse offers the insulation needed to grow plants year-round – others using less insulation cost too much to heat.
RIGA XL Greenhouse units are available in 5 sizes.
We recommend you buy one size bigger than you planned.
Made in Germany
Specifications Details
Sizes Available:
Riga XLs – (9'10" High. 16 mm triple-wall polycarbonate. Heaviest framing)
RIGA XL 5: 14" x 16'5"
RIGA XL 6: 14′ x 19'10"
RIGA XL 7: 14' x 23'
RIGA XL 8: 14' x 26.3'
RIGA XL 9: 14' x 29'6"
Extremely heavy duty construction
First-class insulation: R or K-value 3.0
Warranty: Polycarbonate: 10 years; Frame: 15 years
Two heavy-duty Dutch Barn Doors (front and back) with keyed lock: 37.5″ wide x 74″ high.
Roof Window(s): 37.5″ w x 39.5″ h; with Automatic Window Opener
16 mm triple wall polycarbonate
Assembly time: 2 to 3 people, 2 days
Options and Accessories
Base frame – 6" high: highly recommended. Attaches to the bottom of the greenhouse and is anchored into the ground using a 6" deep trench.
Regular height shelving: Shelving with strong white twin-wall polycarbonate inserts (removable) – 24" deep
Two options: twin-wall polycarbonate inserts (flat), or heavy-duty seed trays – to make starting seeds and transplanting easier.
Additional Roof Windows with Automatic Openers: recommended in areas where temperatures will reach over 95º F when still using the greenhouse.
We also recommend you use shade cloth as well, especially during the summer.
Adjustable Metal Hooks: Set of 5 metal hooks. These are great for hanging lights, fans and flower baskets (heavier items)
Plastic hanger: Set of 10 hangers: These snap into the groves in the aluminum profiles (frame) and are used to attach twine/rope to, to support growth of tall plants (I.e. Tomatoes or beans etc.)
RIGA XL Pro Accessory Kit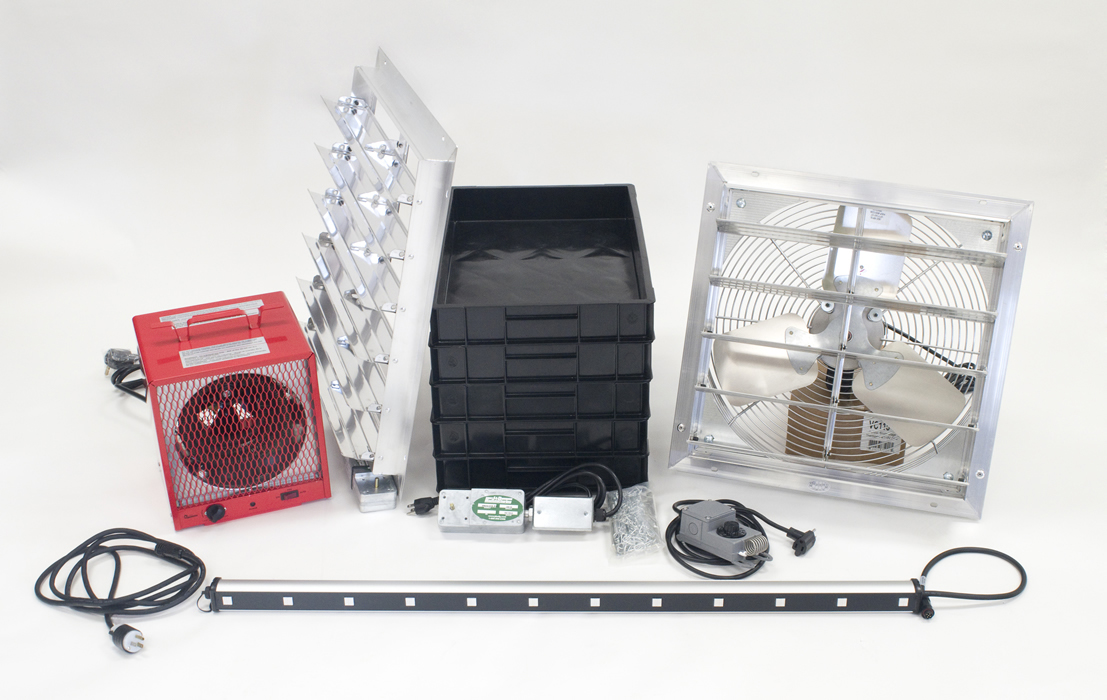 Product Description:
This collection of optional accessories is the perfect way to upgrade any RIGA XL greenhouse model. All of these accessories have been picked to be beneficial to plant growth and health.
Specifications:
Includes the following accessories:
RIGA 4 Top & Table Shelf
3 sets of professional LED grow lights
1 24″ in-take shutter vent
1 20″ exhaust fan
Thermostat to control vent & fan
17,500 BTU 220 V heater
5 heavy duty seed trays
10 stainless steel hooks & 10 heavy duty plastic "hooks"
Also includes facilitation kit to help installation
Wheelbarrow Access Plate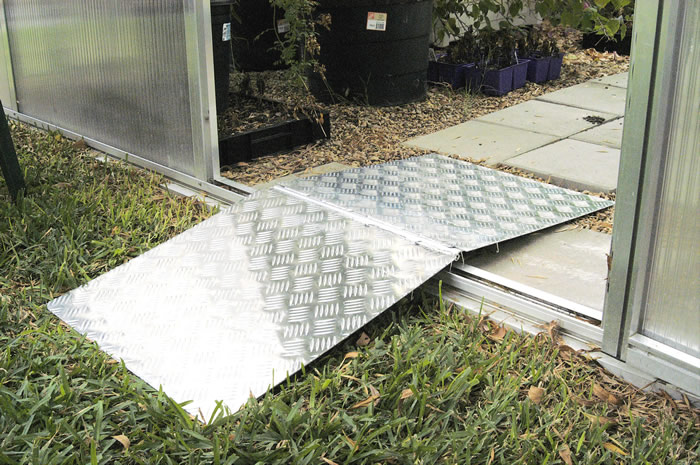 Product Description:
Creates easy entry ramp into greenhouse for wheelbarrow
Specifications:
Heavy Duty Aluminum
19.5" x 21" long (each side) x 1/75" high in the middle
RIGA Door Extension Kit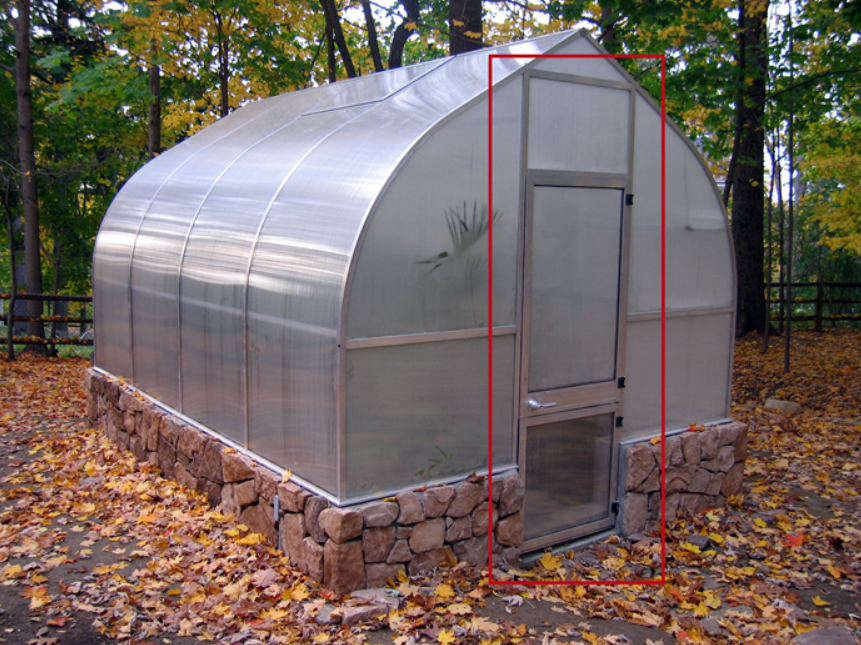 Product Description:
To raise greenhouse 20" when placed on stem wall
Specifications:
Unique size for RIGA 2s, 3s, or 4s
Unique size for RIGA 3, 4 or 5
Unique size for RIGA XL
RIGA Foundation Frame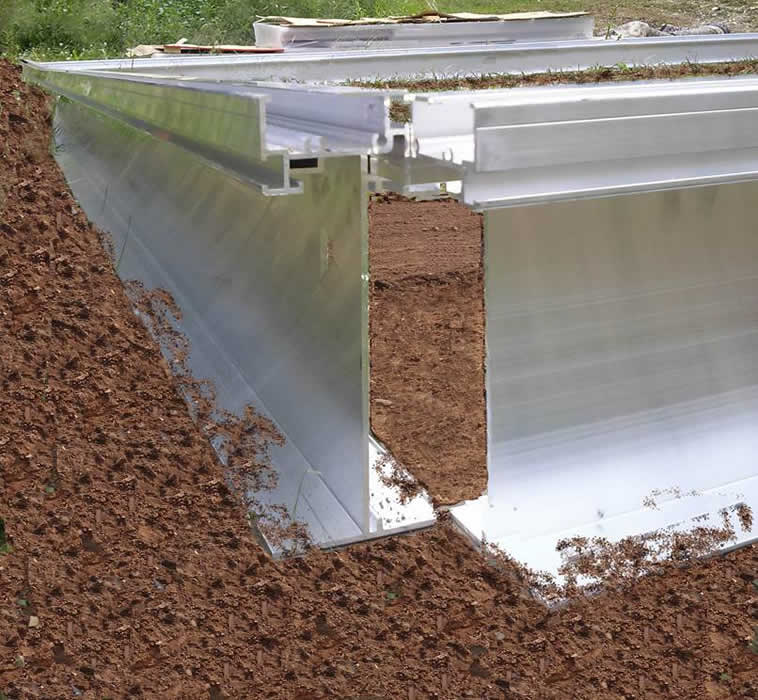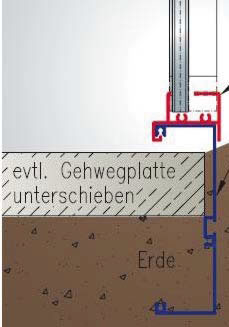 Product Description:
RIGA Greenhouse foundation frame
Specifications:
Foundation frame is buried in a trench when greenhouse is not anchored to concrete
Available for all sizes of Riga Greenhouses (price varies by size/model)
See pictures (RIGA XL Base Photos – RIGA drawing)
Shelves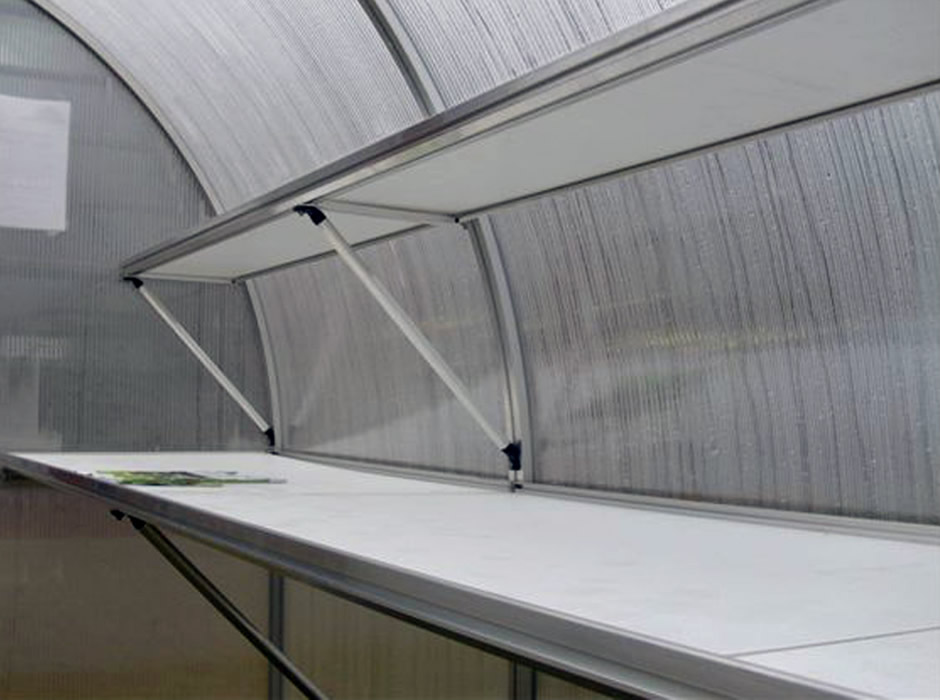 Product Description:
Strong practical greenhouse shelves
Specifications:
10″ wide size for TOP
25″ wide size for BOTTOM
Length varies per greenhouse/size
Price varies per greenhouse/size
Misting System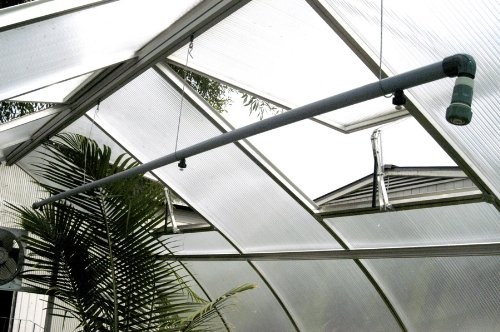 Product Description:
Standard with the Royal Victorian Greenhouses, but can be added to our other greenhouses – up to 14 ft long. Fits a 20' greenhouse. Has 5 misters and can easily be cut shorter.
Specifications:
14 feet long
Has 5 adjustable misting heads
Can be cut to fit greenhouse
Illumitex Eclipse GEN2 N Bar LED Grow Light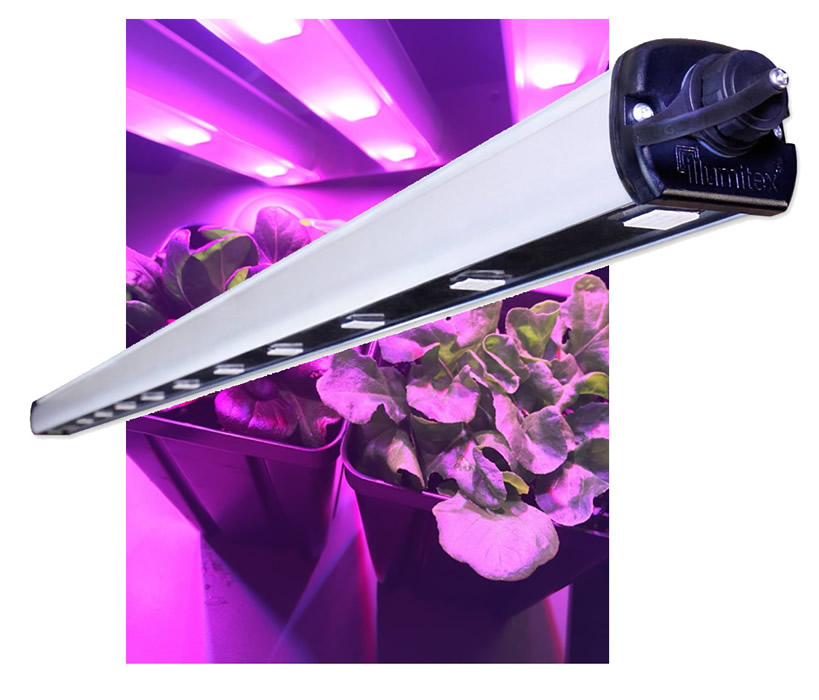 Product Description:
Get your plants more hours of light for maximum growth. Especially beneficial during winter season.
Available with or without power cord – up to 15 units can be "daisy chained" together
Delivers high levels of up to 104 PPF (photosynthetic photon flux) with unsurpassed light uniformity in the F3 spectrum
Designed to install at 12″ to 36″ above canopy, ideal for vertical farming, cannabis and hobby growing
The F3 spectrum produces fastest germination and drives the best vegetative and flowering results of all spectra options
Slim 4′ bar with 12 LEDs is water-proof, damp rated and dust resistant
Specifications:
Anodized aluminum construction
48″ long
6 lbs – very light weight
5 year warranty
Seed Trays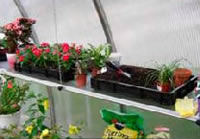 Product Description:
Seed Tray
Specifications:
Heavy Duty
24" x 16" x3.5"D
Exhaust Vent with Fan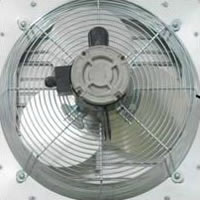 Product Description:
Exhaust fan keeps air moving through your RIGA greenhouse to create the best possible growing environment. Available in three sizes.
Specifications:
110 volt with cord and plug
Optional thermostat with 8′ cord and plug
12″, 16″ and 20″ sizes
Intake Shutter Vent (for use with Exhaust Fan)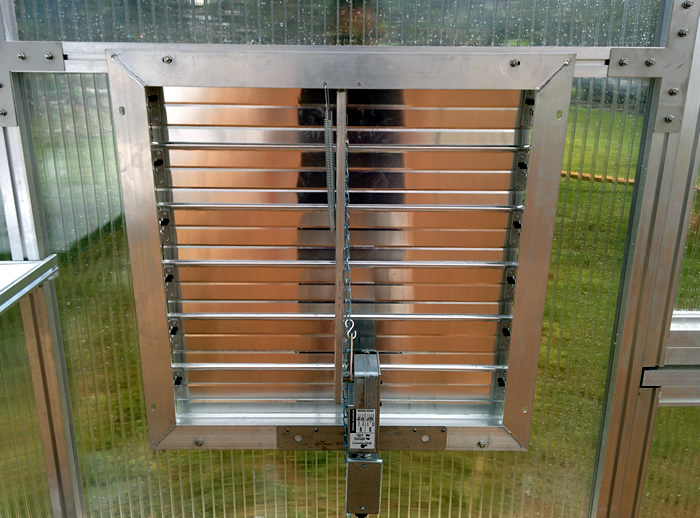 Product Description:
Intake Shutter Vent (for use with Exhaust Fan) allows controlled airflow through greenhouse.
Specifications:
Solar Light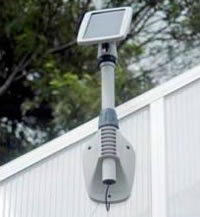 Product Description:
Adds light to greenhouse interior at night.
Specifications:
Extra Roof Window, Automatic Quick Release Opener, & Replacement Piston Assembly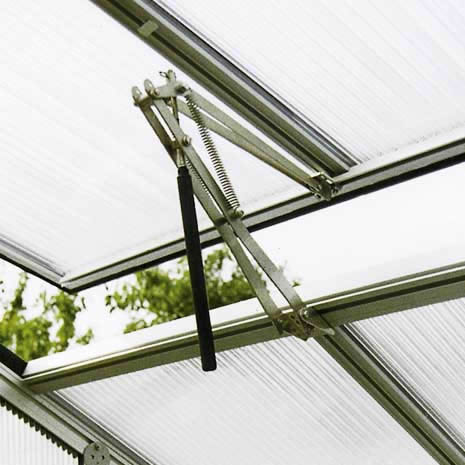 Product Manuals
Warranty
This product carries a 15-year limited warranty on the greenhouse frame (aluminum parts and stainless steel hardware); and 10-years on the Twin-Wall, and 15-years on Triple Wall Polycarbonate, glazing (pro-rated after 5-years) against defects in material and workmanship when properly assembled using only manufacturer's original equipment parts in accordance with manufacturer's assembly instructions.